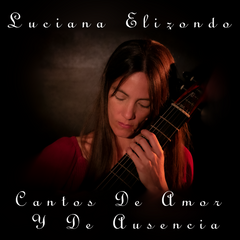 Experience the Purity of Sound and Song from Italy's Hidden Gem on July 22nd, Exclusively at The Audiophile Society
Argentinian-born and Italy based vocalist and violist de gamba Luciana Elizondo partners with The Audiophile Society on her latest release, Cantos De Amor Y De Ausencia (Songs of Love and Absence). One of the premier viol players in the world, Luciana has played with the likes of Ensemble Elyma, Estro Cromatico, Festino Armonico, Glossarium, La Venexiana, Ensemble Européen William Byrd, and Ensemble Biscanotres while also recording a number of releases with EPSA, K617, Sony, and Arcana. In her solo music, Luciana has recovered the ancient Renaissance tradition of "cantare all viola," singing at the viol de gamba, which is  masterfully performed on this upcoming album. 

Recorded in an Italian church, the album showcases her natural musicianship and deep emotional resonance. Luciana demonstrates the purity of sound and song in a way few others can, connecting with them to create something that is hauntingly beautiful. On a selection of songs, Luciana is joined by guitarist Juan José Francione, vocalist Maximiliano Baños, and percussionist Leonardo Moreno, adding a rich orchestrational palette to her already pleasing sound. Mixed in The Audiophile Society's signature Mega-Dimensional Sound™, Cantos De Amor Y De Ausencia is brought to life, granting the listener the experience of hearing the music as if they were actually there. Ultimately, this release from master musician Luciana Elizondo is one that cannot be ignored.