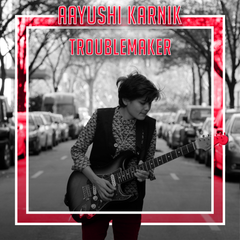 Aayushi Karnik grew up in perhaps the most untraditional place for an aspiring blues guitarist: Surat, India. Yet despite that, the 26 year-old Karnik sounds like a young Stevie Ray Vaugh or Buddy Guy. On her debut album Troublemaker, the follow up to her debut EP The Summer Children, Karnik showcases her generational talent alongside two New York City veterans, Todd Turkishir (drums) and Gregory Jones (bass).
Karnik originally hails from a town called Surat in Gujarat, Western India. As she describes, "It is a dry state, so there are no night clubs to perform. I was mostly a bedroom shredder imagining that I'm playing on a stage." Despite the limited exposure to Western music, Karnik started out playing a lot of acoustic guitar, singing, and songwriting, but her musical trajectory began to change when she attended blues festivals in Mumbai, which included acts like Buddy Guy, Derek Trucks, Eric Gales, and homegrown Indian blues artists. "My father drove me to Mumbai so that I could attend this festival when I was sixteen, and after hearing just one set of Robert Randolph playing, I knew that his is what I had to do." Shortly after, Karnik started a classic rock band with friends in Surat. "What made me serious about the blues/rock stuff was Led Zeppelin and John Mayer. We used to drive around the town listening to all the great music by Led Zeppelin, John Mayer, Stevie Ray Vaughn, AC/DC, Steppenwolf, and the list goes on. Though listening to Stevie Ray was the light flip moment."
Eventually, Karnik left Surat and moved to New York City to attend Julliard, where she continued to develop as both a guitarist and songwriter. In April of 2021, she released her debut EP The Summer Children, of which Rolling Stone India said, "In addition to agile and intricate guitar work, the singer in Karnik leaps out expressively and unfiltered."
Troublemaker features seven new songs by Karnik, as well as classic songs such as Willie Dixon's "Spoonful", B.B. King's "Every Day I Have the Blues," and Barry Mann, Cynthia Weil, Jerry Leiber, and Mike Stoller's "On Broadway." The album showcases Karnik's versatile and complex jazz harmony and vocabulary and places it into a blues and rock context. The next great blues guitarist is here, and her name is Aayushi Karnik.
Troublemaker was recorded at Spin Studios in New York City on January 17th, 2021. Produced by David Chesky & Mark Sherman. Recording Engineer Nicholas Prout.
Track Listing 
Troublemaker
Spoonful
Solid Ground
Blue for Anxious
Open Eyes
On Broadway
Believe it
Living on the Moon
Raining
Every Day I Have the Blues