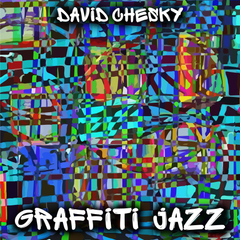 By Marek Dusza 
5/5 - Execution, 5/5 Recording
The latest album by David Chesky - a New York pianist, composer, producer and co-owner of Chesky Records - heralds a new era in his search for the most true sound.

In an interview with AUDIO in 2019, he said: "My goal is to give the listener a realistic impression of being in a space with a band of musicians." He kept his word, because the effects achieved now are impressive with realism.

However, we do not hear David's band, as on the previous jazz albums: "The Body Acoustic" (2004) and "Jazz In the New Harmonic" (2013), but only himself.

The second disc was recorded in the Binaural + system. Even then, Chesky Records achieved a perfectly defined, wide and deep space of its recordings. However, what David is proposing now is a real revolution.

Most of all, I was shocked that he had created a work with such rich instrumentation, extensive and precise arrangement. It is a continuation of sonic and harmonic experiments started on the album "The Body Acoustic", developed on the album "Jazz In the New Harmonic", and now brought to the absolute.

- After writing countless compositions for piano, orchestra, ballets, operas for wooden instruments, I wanted to try something different - wrote David Chesky about his project. - I went back to my jazz roots and created an album in which I use virtual instruments. After all, we live in a digital, virtual world, so why not try to reflect this culture with the computers we all use.

I have replaced all the harmonies that usually accompany melodies in songs with notes that accompany the melodies and solos. The compositions focus on the bass line of rhythm machines and on traditional and non-traditional sounds. I used these sounds as a platform for my improvisations.

After adding space to the 3D Meta-Dimensional Sound system in which the record was recorded, the music gained height and a sound stage beyond the speakers. Since music was conceived for listening at home, the stereo system in this case is a virtual concert hall.

DSD and PCM Hi-Res files mixed in two ways were made available on the www.TheAudiophileSociety.com platform: for listening in an audio system with loudspeakers or in headphones.

The speaker version made an electrifying impression on me. I've never heard such spatial music before, and so much is going on in it! We will discover it by listening to it over and over again, with delight and curiosity.