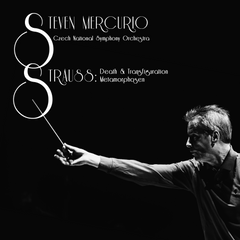 STRUSS Tod und Verklärung. Metamorphosen - Steven Mercurio, cond; Czech Natl SO - AUDIOPHILE SOCIETY 11 (57:00)
24-bit .wav file download
            Although the repertoire on this release is thrice-familiar, there are several aspects that make this release exceptional. First is the impressive conducting by Steven Mercurio. As automatically as collectors might turn to famous Strauss conductors like Kempe and Karajan, Mercurio leads highly musical readings that have something to say. He encompasses every aspect of Strauss's opulent musical language quite beautifully. There is the full spectrum of color and drama in these performances, and several individual qualities stand out.
            Death and Transfiguration presents the challenge of balancing the almost clinical depiction of a dying heart with Strauss's vision of transcendence. Elgar portrayed the same duality of flesh and spirit in The Dream of Gerontius, which brought the difficulty of not making the soul approach God with churchy piousness (although Elgar's audience in 1900 would have accepted religiosity as a valid attitude toward death). The difficulty in Strauss's depiction is vulgarity, a different and perhaps trickier matter. There isn't much difference in the soul's transcendence as portrayed in Death and Transfiguration and the self-aggrandizing apotheosis of the Hero in Ein Heldenleben, a similarity underscored by directly quoting the transfiguration theme.
            Musically the lure of Strauss's luscious orchestral writing is strong, and I was glad that Mercurio doesn't indulge in a good wallow. His performance is poised and balanced throughout. Insofar as Death and Transfiguration needs a conductor's help to sound genuinely spiritual, Mercurio brings it—every section of the score is sensitively handled and beautifully phrased without erring in the opposite direction and sounding overly modest. After all, gorgeousness is a prime consideration in everything Strauss wrote.
            Metamorphosen receives a measured reading at 30 minutes, and the opening moments underline Strauss's grief over the destruction of German musical monuments by Allied bombing in World War II, particularly his beloved Munich Opera. But in broader terms he composed an elegy for a musical culture devastated by Nazism. The technical challenge of leading a clear and coherent performance of Metamorphosen lies in the dense texture presented by 23 solo string parts. Congestion of sound, if allowed to, robs the piece of momentum. Mercurio skillfully avoids this pitfall—his reading is one of the clearest I've ever heard and one of the easiest to follow by ear. He maintains a through line in the face of multiple intertwined melodic strands. Where other performances eventually get bogged down, this one develops an elegiac mood that transcends grief, which I take to be Strauss's intention.
            Since Mercurio might be a new name to readers, let me offer a background sketch. Born in New York State in 1956 and educated at Juilliard, Mercurio has become a kind of conductor without borders. He has had a close association with Andrea Bocelli, but his discography also includes a Richard Tucker Award Gala, a recital by violinist Anna Akiko Meyers, and recordings of his own songs. For five years Mercurio was music director of the Spoleto Festival—he conducted the American premiere of Zemlinsky's opera, Der Zwerg—and in 2019 he became chief conductor of the Czech National Symphony Orchestra, a post-Communist ensemble founded in Prague in 1993.
             There are so many orchestras in Prague, which isn't a large city, that I imagine the musicians occupy chairs in more than one orchestra. The Czech National Symphony mentions film work in its Wikipedia entry and other commercial ventures, including video game music. Here the orchestra is fully capable of playing Strauss's tone poems with intensity and commitment.
            Finally but by no means incidentally, the recorded sound for these performances is crystal clear, detailed, and transparent. This benefits both works but Metamorphosen in particular because of its dense textures. The Audiophile Society, as its name indicates, puts major emphasis on high-quality sound. The label's approach is unique, in that it offers packages that offer a choice of formats. To quote their website, the package includes "Hi-Res PCM Speaker Mix,  DSD Speaker Mix, and Hi-Res Headphone Mix all in one zip file." Such an adaptation to the needs of contemporary listeners is admirable and far-seeing. But even listening on an everyday .wav download provided by the label (my system doesn't have hi-res capacity), the recorded sound was obviously superior.
            In the end what matters most are the performances, and in that regard Mercurio's interpretations were as delightful as they were unexpected.
Huntley Dent
Five stars: A unique combination of audiophile sound and excellent performances